Introduction
The Assuria Event Center is located in the tallest building in Suriname: a two-storey multi-purpose event center, which is suitable for both business and private events. The Assuria Event Center (AEC) is located on the ground floor of the Assuria Hermitage High-Rise and can be reached via the entrance at Recolaan No. 17.
The Assuria Event Center consists of:
the ground floor of 581 m2 | max. 500 movable chairs
a 96 m2 stage
a fixed grandstand on the 1st floor with 220 fixed seats | separate entrance via escalator or elevator
back-of-the-house space (artists changing room with separate entrance)
break-out room 1 of 81 m2 | capacity max. 50 seats in theater style
Advantages
Fully refrigerated
Centrally located in South Paramaribo
Parking for at least 200 cars on the Assuria Hermitage High-Rise site.
24-hour camera surveillance and guards in and around the building
In-house catering service available
Different setups possible
Accessible for the disabled | elevator and escalator available
Setup
Below you will find various options with regard to different set-ups. If you want a different set-up or combination, that is of course also possible.
720 seats theater style:
500 on the ground floor and 220 on the 1st floor
+/- 250 seats in cabaret setting
+/- 350 chairs in banquet setting
Technical specifications
(image, sound and lighting)
Assuria Event Center Equipment List
EVENT CENTER AUDIO SYSTEM
Front System:
4 x Yamaha DZR315- Dante Powered 3 way 15" speaker (front)
4 x Yamaha DZR10- Dante Powered 2 way 10" speaker (rear)
2 x Yamaha DXS18XLF- Dante Powered 18" Subwoofer (front)
(no stage monitors, no FOH mixer) / a technical engineer must be hired for events.
F.O.H. (iPad Yamaha Stage Mix App)
Yamaha Mixer Console TF1 Dante (Server Room)
Dante Network available for Main mixer extension routes.
Microphones:
1 x Sennheiser EM 6000 Dante
2 x Sennheiser SKM6000 BK
BREAKOUT ROOMS
Break out room 1 - 6 x ceiling speakers
Break out room 2 - 8 x ceiling speakers
VIDEO SYSTEM
ASSURIA EVENT CENTER
165" inches 4X4 VIDEO WALL LED DIRECT-LIT 4K
BREAKOUT ROOMS
Wireless Video receiver - Novo presenter 1 X Digital Signage YouTube Links, Websites, own data upload
75" 4K Commercial LED display 1 X HDMI Return module

Air safety in the Assuria Event Center

COOLING SYSTEM:
The air handling units in this room can draw in fresh air, but this only happens if the CO2 percentage in the room rises, otherwise the existing air will recirculate. This recirculation system can be adjusted or turned off completely. This has been switched off in the Assuria Event Center, which means that the system runs entirely on fresh air. When this is compared with the standards, the theater appears to be a Class A space.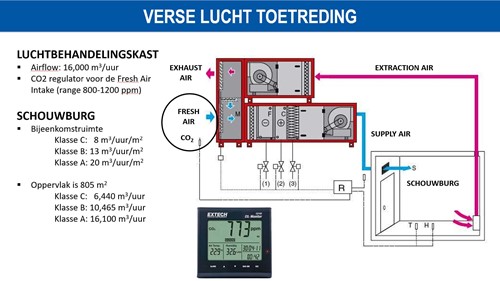 In general, all events organized in the AEC comply with scenario #5 (see below), with the risk of contamination being minimal.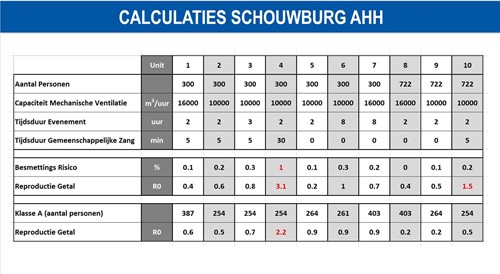 Other information
Permit to be requested by the tenant if necessary. With ticket sales, the costs of entertainment tax are for the renter. Events in the Event Center may be held until 01.00 a.m. at the latest.
Reservation procedure
Viewing of the facilities is possible by appointment. If you are interested, we can send you a quote.
Upon approval of the quotation, we would like to receive it signed and returned. After this you will receive an advance invoice of 50% of the full rental amount. After receiving the 50% deposit, the booking is official. The invoice with the remaining amount of 50% must be paid no later than 5 working days before the event. All invoice amounts include 12% sales tax.
If you are interested in the above and would like to view the location, please contact us using the contact information below.